Meet us at Seafood Expo Global in Barcelona, April 25-27
Are you in the business of fish or crustaceans farming?
Then you know that there are clear expectations from customers, the environment, and the market - to handle and slaughter both fish and crustaceans in the most humane way possible.

Come and visit Team Optimar on stand and see our Electric Stunner
The most effective and humane way to stun fish and crustaceans. By using the Electric Stunner you also improve the product quality as well as human safety, and obtain greater efficiency and reduction in labour in the harvest process.
"We are proud to be the first company to have established humane slaughter on seabass and seabream in Turkey. We hope this will set an example to the fish farming industry in Turkey that it's possible to humanely slaughter seabass and seabream. Electrical stunning has improved the fish welfare but also improved product quality and shelf life. It has also facilitated the slaughter operation, especially during rough sea conditions."
Karem Goksel, Sales Director SÜRSAN A.Ş.
Optimar and Aquatic Life Institute - Stunning Methods for Aquatic Species
Start your 2nd day at Seafood Expo with Optimar and Aquatic Life Institute. From 10 AM our barista will serve you the best free coffee, and Christine Xu from the Aquatic Life Institute will present the report: Best Practices for Aquatic Animal Welfare.
We will also be presenting other innovative and sustainable solutions for your factory, both onboard and onshore.
We have the systems and technology - let us help you to process fish and crustaceans more efficient and with better quality!
Optimar is one of the world's leading innovation companies in fish processing. We offer technology and factory solutions in robotization and automation, to customers in more than 30 countries. Our focus is to help you with sustainable fish handling solutions adapted for vessels, land-based factories, and the fish farming industry.
As a systems integrator, we provide the time, talent and technology required to turn your vision into reality – from initial plan to completed project.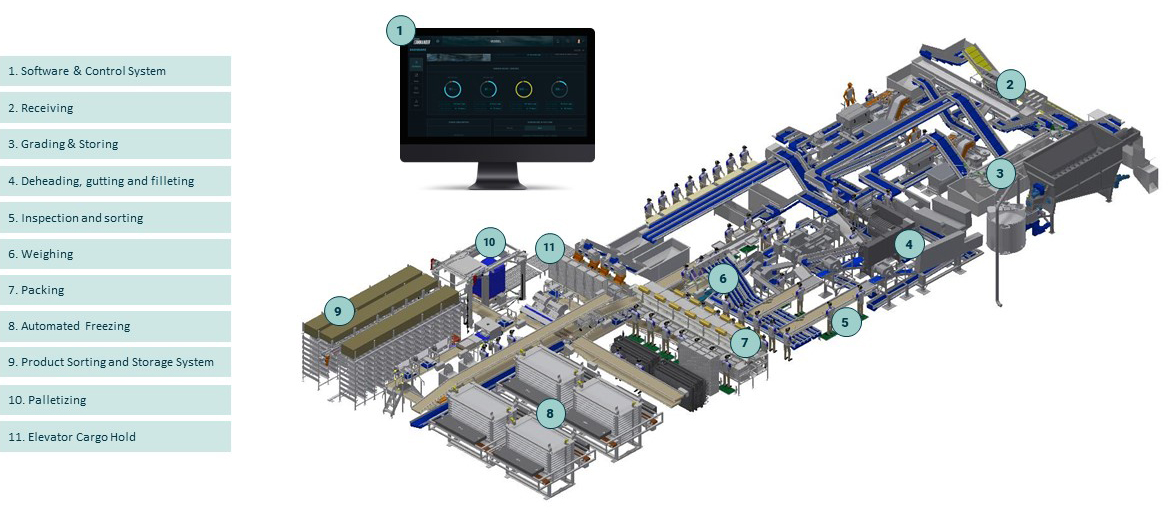 Fish handling with care
High quality seafood products are made from high quality fish handling. From the moment the fish is brought in, it is vital to secure its wellbeing. Optimar's automated systems maintain a high level of animal welfare as well as saving time, energy and money.
Our robust equipment can meet our customers' needs in the most extreme conditions, where every minute counts and downtime is no option.
No solutions too small or too big!
Do you want to know more about all the benefits of electric stunning? Or learn how you can achieve higher quality and better efficiency in your fish processing?
Sales Managers, Hans Owen Thunem and Viggo Brevik are ready to help you and answer all your questions - please feel free to get in touch with them at any time!
They will be present at the Seafood Expo Global in Barcelona, April 25-27, 2023. Whether you meet them there at stand 3MM601, or where it suits you best around the world, it is in their biggest interest to help you with the information you need.