This fully automated freezer is handling 240 tons of fish a day – 20 years after delivery
20 years ago we launched a revolutionary project together with Pelagia Liavåg. The project marked the end of forklifts in cold rooms, and was the first of its kind delivered to the fish industry. The product we're talking about is the fully automated freezer known as OptiBlast. Which has been continuously innovated ever since.


We met up with the Managing Director at Pelagia, Rune Hoddevik, to hear his thoughts 20 years after.
– I am truly impressed with the quality of the equipment and the work that was done with the tunnel itself, he explains.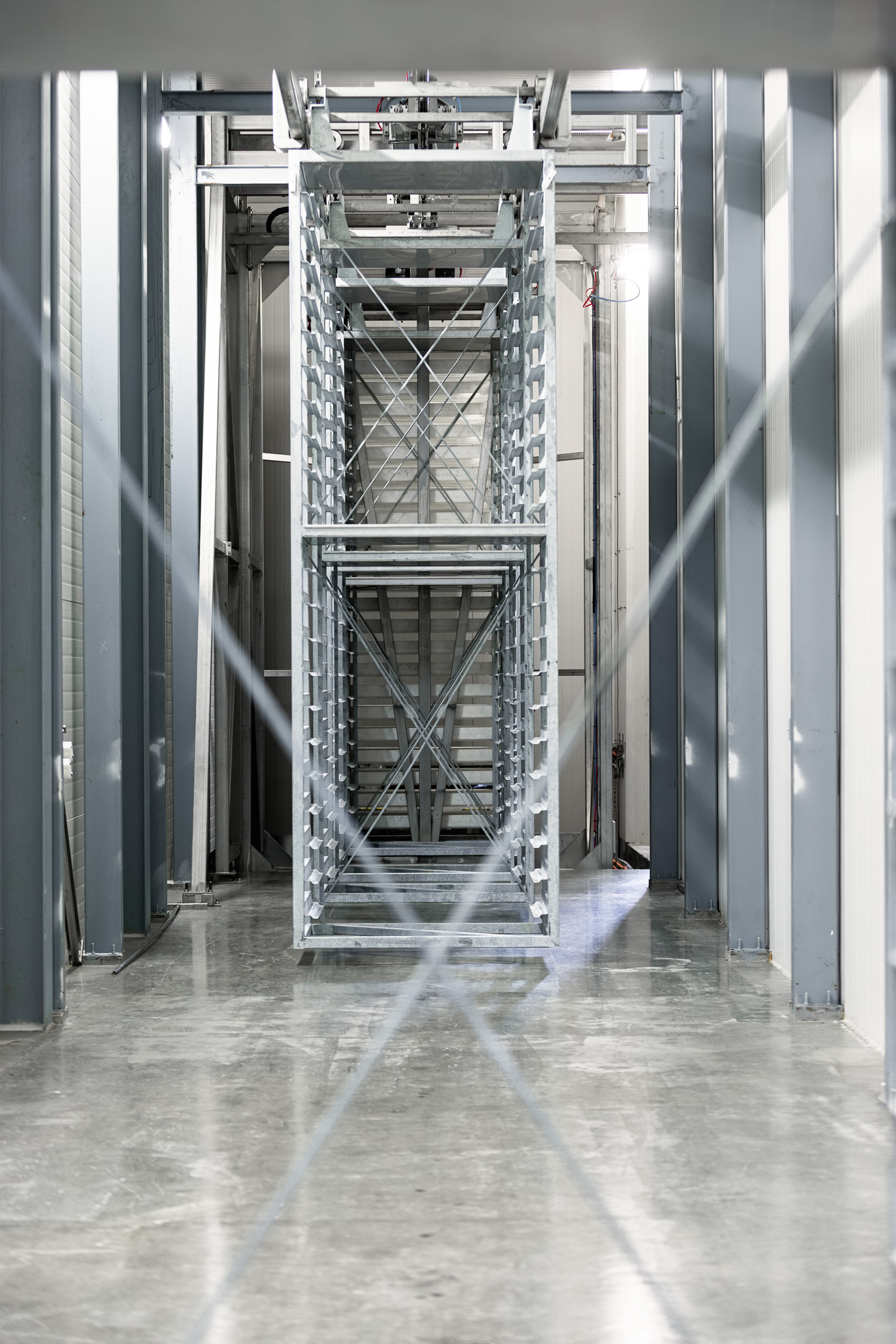 - After 20 years of use the OptiBlast facility still looks brand new.

Reduces the energy consumption
The main difference between this automated freezer and a regular freezer is that there's no need for any personnel or machines in the cold rooms. This doesn't only result in a better work environment for the employees, it also reduces the energy consumption.

– The freezing time is now 50% shorter and saves us a lot of energy. In addition I must say that it's absolutely fantastic not to have to drive a forklift inside, Hoddevik confirms.
The product enters and leaves OptiFreeze Blast through small openings via an automatic robotic system. Energy savings are significant because no large doors are repeatedly opening and closing. Freezing racks remain inside the refrigerated area throughout the process so no energy is wasted warming up or cooling down the steel frames.
Loading and unloading are continuous – one station and one rack at a time – so, unlike traditional static blast freezers, there are no energy peaks or valleys. Tests by SINTEF prove the flow of air is evenly distributed through the products.
Live data with Commander
There's also a hygienic aspect of it. Pelagia produces 240 tons per 24 hours with round fish and fillet and during that time there's no man or machine inside the cold room. Four people is enough to handle the whole operation.
With today's solution, you will also be able to get live data from the entire operation anywhere in the world. This is made possible with our innovative digital platform Commander. All information received can also be distributed to relevant mobile devices such as phones, tablets or PCs.
Smooth operations and little maintenance
In one year Pelagia delivers 50 000 tons of fish. 25% of the fish goes through the air freezer and even today, so many years later, the operations run smoothly.
– There's only been minor technical adjustments over the years. Like replacing PLC and things like that. It amazes me how durable this product is, and how little maintenance that's needed, Rune tells us.


Our Sales Consultant, Geir Espen Otlo, was the one who delivered the project 20 years ago. There's no doubt that he knows both the client and the solution better than most.

– This was launched as a new generation of automated freezers. Together with Pelagia we found the best solutions and the project even received funding because of its innovation, he says.

Stable freezing time and tailor made solutions
With traditional methods the freezing time can be unpredictable. With this automated air freezer we ensure continuous operations and stable freezing time.

– This solution leaves no pressure on the fish and maintains the quality of the fish in an outstanding way. It's simply fish handling with care, Mathias Sandnes, Sales Manager, explains.


Pelagia Liavåg is one of many facilities we have delivered the OptiBlast to. Several years of experience and development makes it possible for us to tailor freezing solutions to fit your needs. Whether it's a one shift operation to empty and fill the freezer at the same time during the day, and let it freeze overnight, and run the same operation the next day – or if it's a fully continuous production that fills up and empties the freezers around the clock.