This is how you transform a hull from 1979 into an innovative stern trawler
mars 16, 2021
This summer, the new stern trawler Nordbas, owned by Nordnes, was launched at sea. The vessel is 60 meters long and 10 meters wide - and houses several innovative and energy-efficient solutions. The hull itself, on the other hand, is from 1979.
Why did they even bother transforming this old hull, and was it worth it? We board Nordbas to ask the team exactly that.
Taking a sustainable stand
– We got a chance to buy a solid vessel from Iceland which had functioned as a sturdy fishing vessel for years and wanted to see how we could prolong its life at sea, instead of building a completely new one. By reusing the steel from an older vessel, we wanted to show how the industry can implement a more sustainable mindset. Even if the steel is old – everything else is brand new, says Mats Grimstad, Skipper and Operations Manager at Nordnes.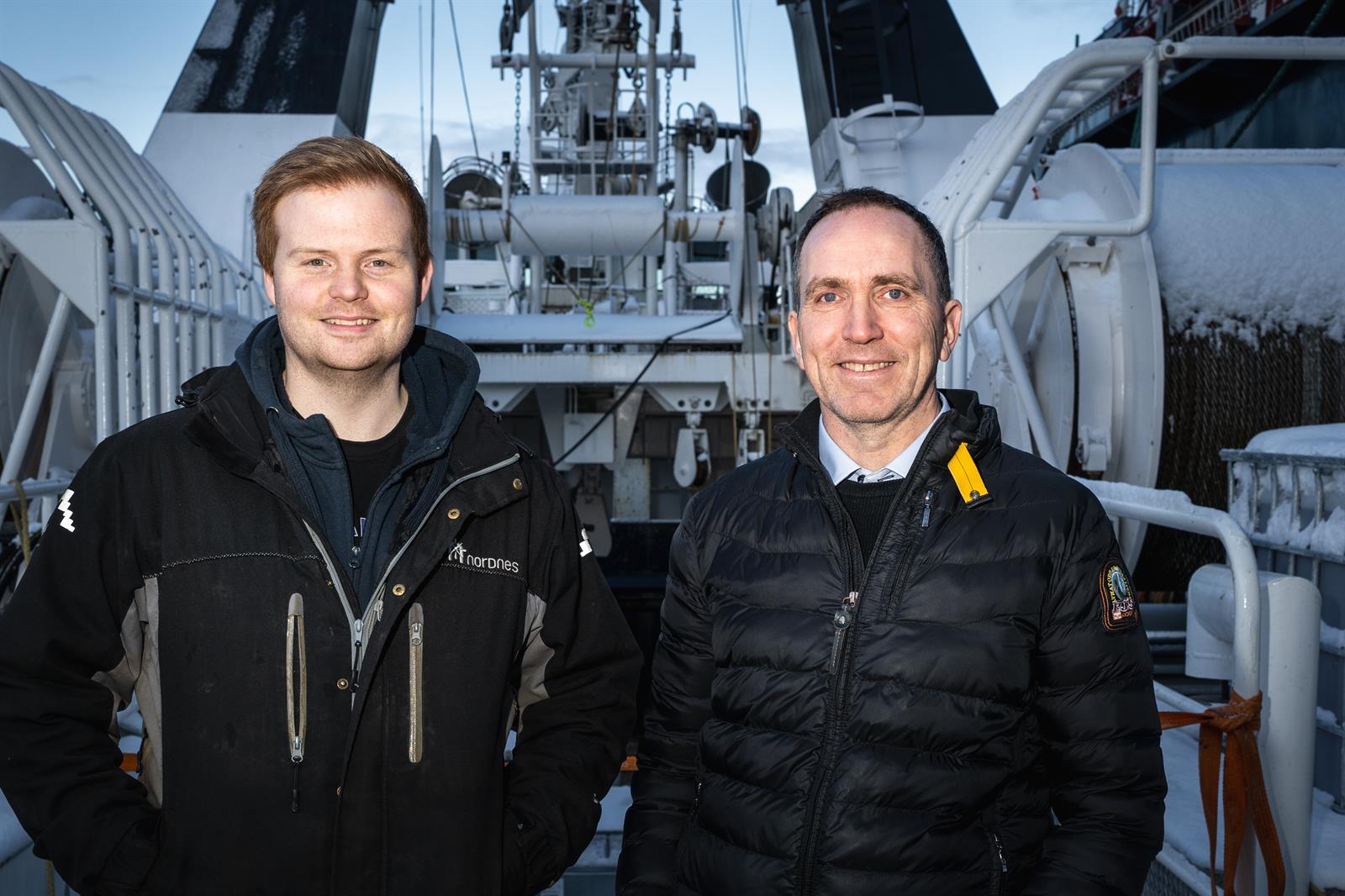 Mats Grimstad and Trond Bjørnøy onboard Nordbas
Whether it's cheaper than a new construction, he does not know. This project was about something much bigger than costs. It was about creating values for the next generation – and that is why we at Optimar found it so rewarding. Because of the project being a remodeling focusing on energy efficiency, Nordnes also received economical support.
Limited space – high capacity
It's not difficult to see that Mats is proud of what they have achieved. Especially of the factory, which Optimar has delivered.

– I have been responsible for the factory and we reached out to Optimar at a very early stage. There is limited space on board, but we still wanted a high capacity. Optimar simply had the best solutions, he explains.
Trond Bjørnøy in Optimar has followed the process ever since before the purchase became a reality. We talk to him in the state-of-the-art wheelhouse on board Nordbas.
– First they came to us with the drawings when they considered buying the vessel. We worked our way through many different solutions before we finally ended up with the state of the art factory that is here today. As a system integrator we are used to assignments in all shapes and sizes, so this is what we do best. Give us a challenge and we will solve it together with the customer, he explains.

The solution Optimar came up with together with Nordnes is a well functioning area with heading machines and a infeed station connected to the grading system. The grading system recognizes weight and species and it also has a batching system keeping track of the amount of fish in each tank.


Optimar also delivered the vertical plate freezers with the Optimar V1 automatic emptying system that allows the frozen fish to go straight into packaging and labeling. In addition to the modern HG factory you can find a complete shrimp line on board. It's provided with by-catch separator, grading machines, continuous cooking, cooling tanks and an infeed system connected to the Individual Quick Freezing tunnel.
– Already on the test trip we achieved the same capacity as on much larger vessels. The collaboration with Optimar to utilize every inch has been essential for the success, Mats says.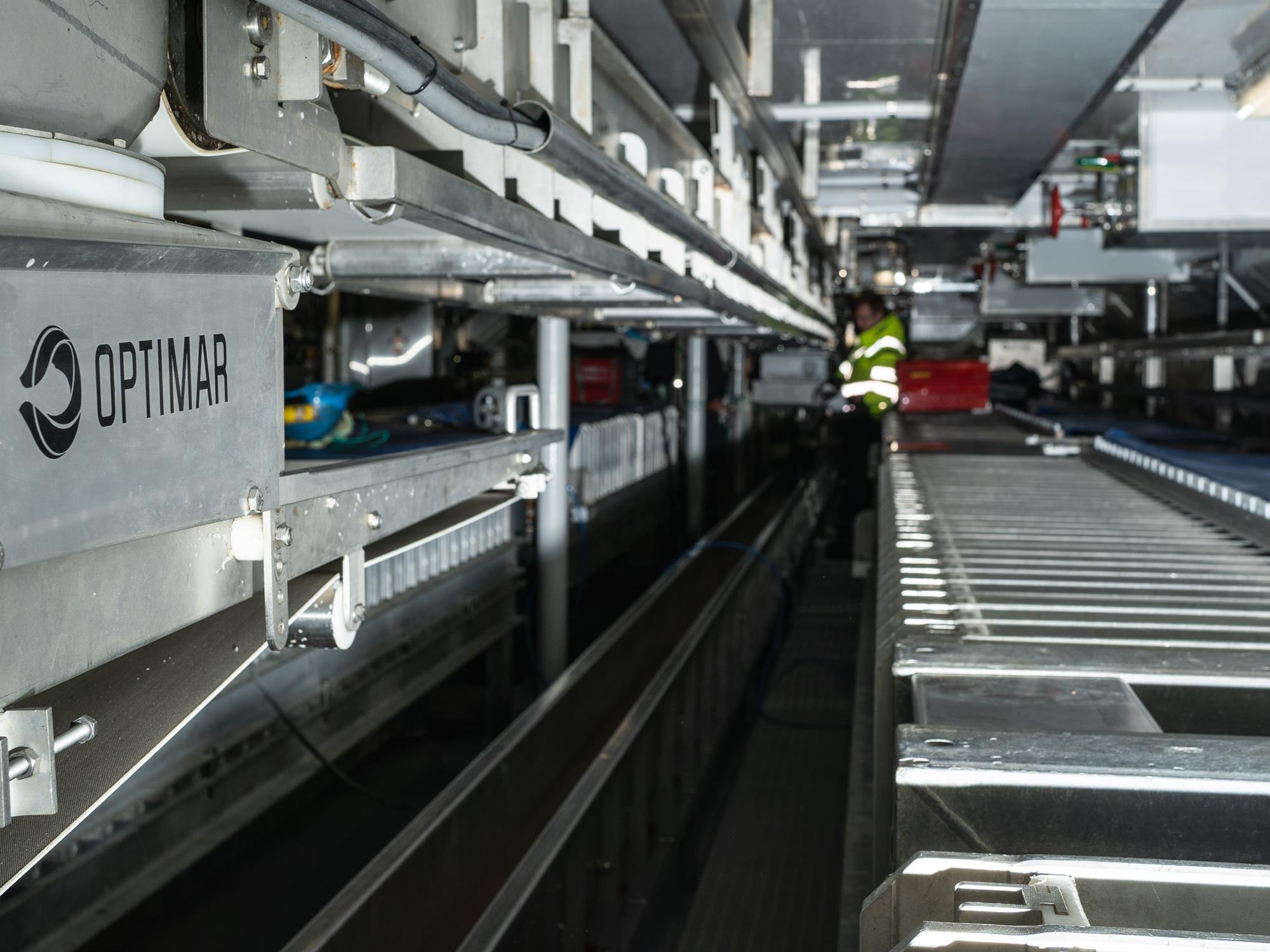 Onboard Nordbas
Collaborate for success

– I feel I have received the same follow-up with a small factory, as if it had a cost twice as much. At Optimar, we are always a priority, Mats explains.
In addition to tailor-made factory design in close collaboration with the Nordnes team and production of the factory, Optimar has provided highly skilled supervisors to assist Nordnes during the assembly of the factory.
– We do not have to be involved every step of the way, however, not everyone is like the people at Nordnes - who can manage so much of the process and production themselves, Trond says.
Under 5% was traded outside Sunnmøre
Maybe it's the background of Mats and the rest of the people in Nordnes that has made such an independent and determined company.
– My father owns the shipping company. I decided what I was going to do when I was five years old and had my first journey at sea when I was thirteen, says Mats.

He started as a fisherman before his studies and then worked his way up in the true spirit of where he's from; Sunnmøre. Local patriot? Yes, but that is not the only reason why so much of the Nordnes project activity has taken place here.
– In this project, it has been very important for us to choose local suppliers. Just under 5% are traded outside Sunnmøre. We are very proud of that! And it's not just because we are local patriots, it's because the suppliers here are the best in the world, he says.
We at Optimar are proud to play a significant role in such a revolutionary journey, and look forward to following Nordbas at sea.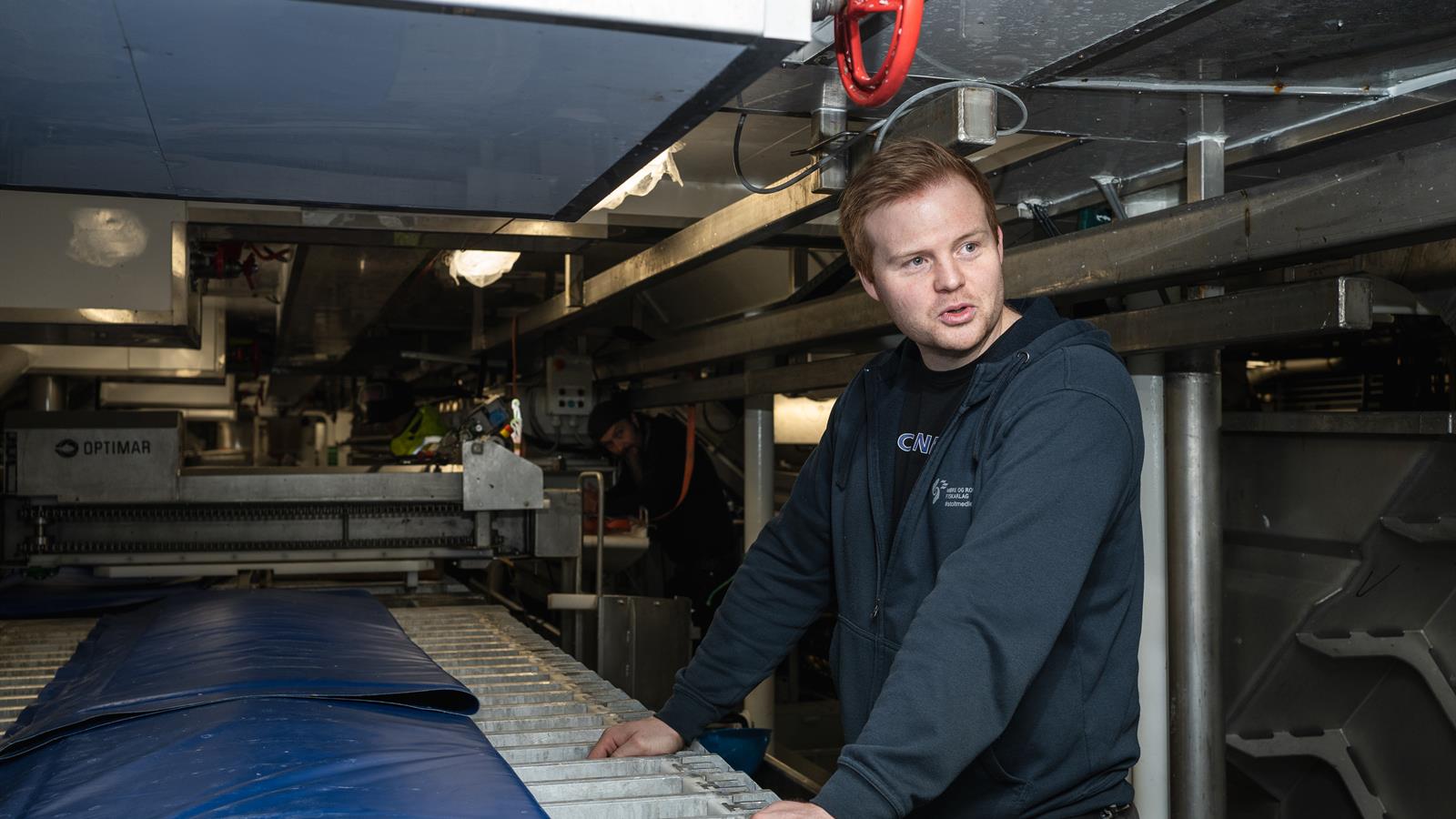 Mats Grimstad
We at Optimar are proud to play a significant role in such a revolutionary journey, and look forward to following Nordbas at sea.
If you have any questions or want to know more about the project, or products contact our sales manager Trond Bjørnøy.