Optimar Electric Stunner for shrimps
Optimar Electric Stunner ensures the welfare of the shrimps trough the slaughtering process. Our commitment to humane handling is tied to our dedication of producing a final product of high quality. By prioritizing the welfare of each shrimp, we embrace our ethical responsibility and support our customers in their everyday work of shrimp farming.
Why electric stunning?
Optimar electric stunner is the most humane way to paralyze fish and crustceans. In compliance with European and Norwegian standards, the Electric Stunner renders the animal unconscious safely and in a stress-free manner. Our electric stunner has been in use and is validated by the market for more than 15 years, on Salmon, Trout, Cod, Sea Bass/Bream, Catfish, Crab, Lobster and Shrimps.

Our stunner automatically transport animals in a controlled speed through an electrical stunning device, leaving them in a paralyzed or euthanized state at the other end of the belt. There is no need for chemicals and therefore no residual wast.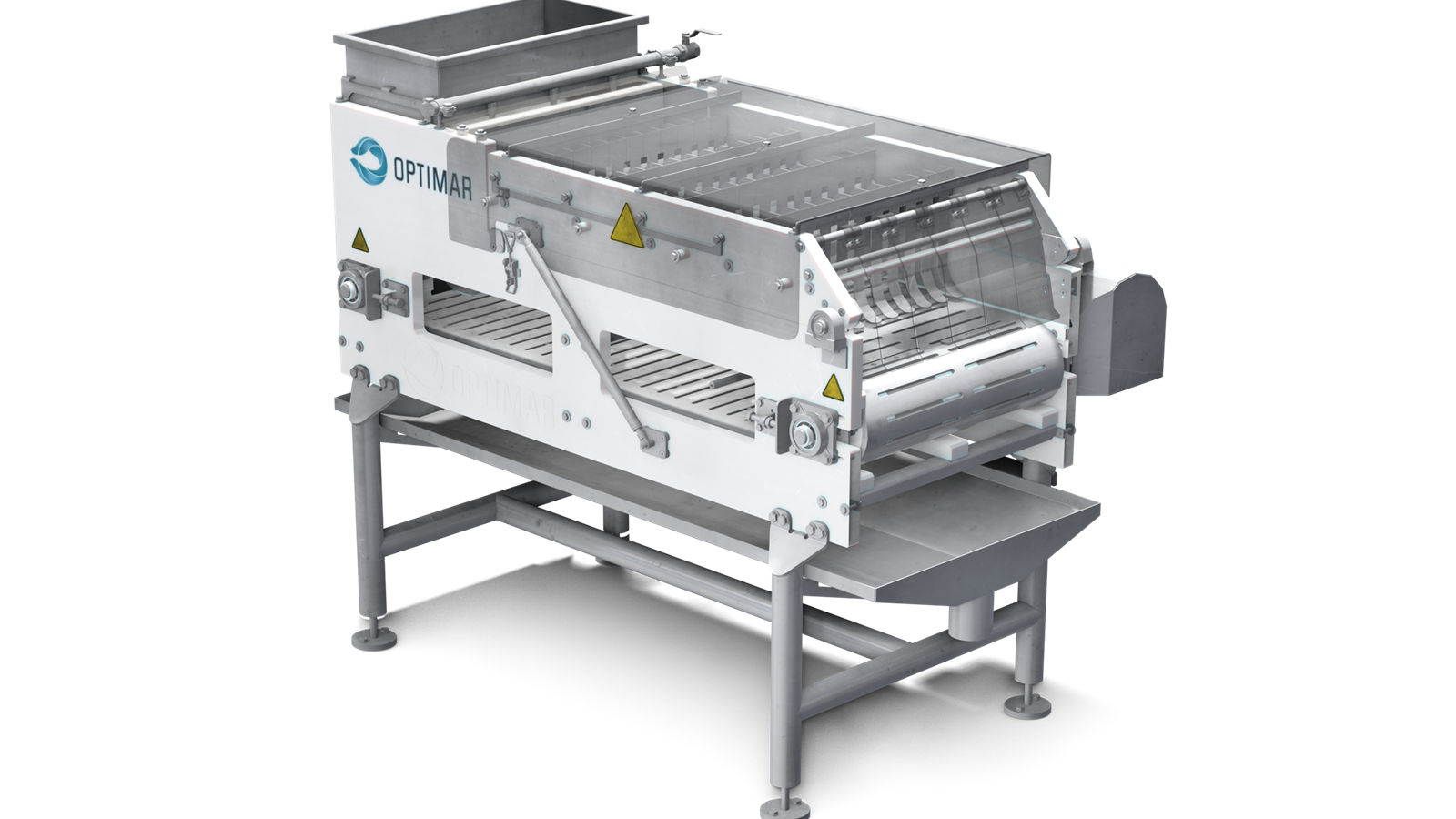 Read more about the Optimar Electric Stunner for shrimps here:
Optimar Electrical Stunner for shrimps
Collaboration with the Shrimp Welfare Project
Team Optimar collaborates closely with The Shrimp Welfare Project to assist shrimp producers handle the shrimp in the most humane way possible during the slaughtering process.

Earlier this year, we arranged first Optimar Animal Welfare Week in Ålesund, and one of the co-founders and CEO of the Shrimp Welfare Project,Andrés Jiménez Zorrilla joined us and visited our site.
Andrês and his organisation are important partners for Optimar. With their experience and knowledge, we are can deliver the Optimar Electric Stunner adjusted to customer needs.
Read more about our very first Optimar Animal Welfare week here:
Optimar Animal welfare week
Why Optimar as your partner?
We are a global leader for automated fish processing systems for use on board fishing vessels, on land and in aquaculture. These systems are installed as turnkey projects, either independently or in connection with third-party products. Moreover, as a full-service provider, Optimar offers complementary software products and services – from remote diagnostics and online service through to spare parts, maintenance, and retrofitting.
Aside from our headquarter and manufacturing facility in Ålesund on Norway's west coast, Optimar operates other facilities in Norway, the United States, Spain and Romania. By being in the heart of the Norwegian seafood cluster, close to our customers and partners, we are able to be in the lead of innovations and product development.
We will continue to work close with the industry, organisations and academia to develop solutions for humane handling in the harvesting process. If you have any questions about our solutions or products, feel free to contact us.