Optimar - your number one partner in fish handling and processing
Optimar offers a wide range of products for your operations in fish farming. With years of experience in fish handling we can help design the perfect solutions for your operation. Our focus is smart solutions for efficient processes with less people in the factory.


In every project our focus remains the same:
animal welfare and sustainable operations

customer loyalty
flexibility
balancing requirements, wishes and budgets
careful assessment of new technologies
Optimar as System Integrator
Our expertise enables us to handle projects of any size and provides you with a highly qualified team of experienced engineers. Our role as systems integrator is to make sure the preferred components and subsystems work together seamlessly as a whole.

An Optimar systems integrator's main focus is to create value for the customer by managing and completing the project successfully.
Our dedicated team is ready to take on any challenge!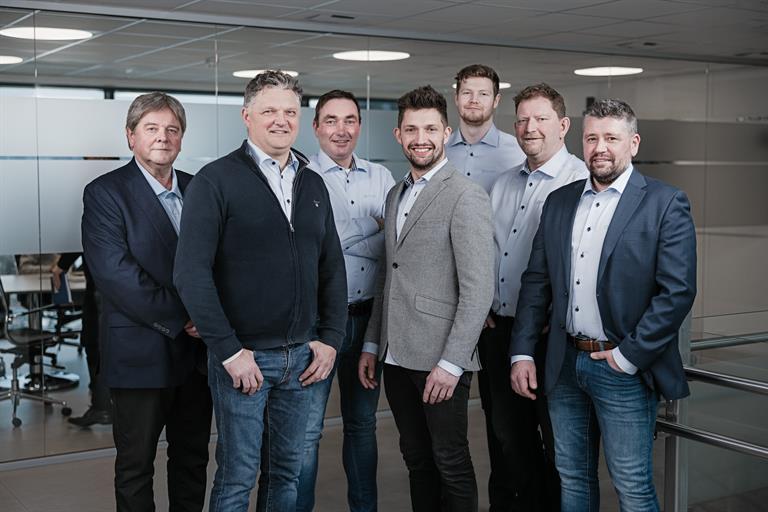 Read more about our System integrator competence here: Optimar System Integrator



Our wide range of solutions
We are involved in varios steps of the fish handling process - under you can see some of our offerings for your fish farm, vessel or slaughter house.


Slaughterhouse for land and sea
Optimar delivers turnkey production factories for slaughterhouses. With our experience, we can take on the larger projects from the initial plan to the final factory of any capacity and size.

We deliver for all types of species and make sure animal welfare is in focus as well as a high level of automation to reduce cost.
Team Optimar delivers large factories on land, and our well know stun and bleed vessels can slaughter the fish right at the net pen to secure minimum loss and high qualiy. Additionally, we offer excellent vessels equipped with complete primary processing factories.
OptiBlast Freezing
OptiFreeze Blast is capable of freezing up to 1000 tons per day of any product, and is our largest freezing system in size and capacity. Energy savings are significant because no large doors are repeatedly opened and closed. Freezing racks remain inside the refrigerated area throughout the process, so no energy is wasted warming up or cooling down the steel frames.
Read more about our Optiblast here: Optimar Optiblast freezing solution
Optiblast Hotel Freezer
By using advanced automation, the Optiblast Hotel is able to provide advanced logistic solutions for storing and freezing fish in trays and boxes. Optiblast Hotel is an automatic freezer hotel that can freeze and log the time each product needs to be in the freezer, for correct core temperature. Automatic logistics system in/out of freezer is included.
Read more about our magnificent hotel freezer here: Optimar Hotel Freezer
Stun and bleed solutions
Fish processing needs to be done in the most efficient and humane way possible. The Stun & Bleed system is taking care of the fish from the moment of entering alive and all the way until a humane killing is completed. The system is designed to increase the welfare of the animal, to allow for full automation, easy cleaning and to give access for easy surveillance of the process. Several options for handling different species and maximizing the profit can be provided.
Read more about our Stun & Bleed Solution here: Optimar Stun & Bleed Solution
Optimar OptiTube
With Optimar Optitube the fish is kept cold and in motion with water while it is bled out. We consider this to be the absolute best way to bleed out the fish. The continuous motion and circulation is controlled to create different zones within the tube, providing first in first out transportation, simultaneous as it helps the fish bleed out more efficiently and more gently. Our OptiTube can be used on land and at sea.


Read more about our OptiTube solution here: Optimar OptiTube
Mobile factory solutions
To maximize your capacity, our container solutions can support your onsite factory. We deliver factory solutions in mobile containers to support your processes, for both land and sea. Some examples are Stun and Bleed factories, stand-alone Ensilage factories, and Slaughter lines with manual gutting. Our container solutions have been used on decks of large trawlers, well boats, slaughter vessels, on land with land-based farming, and on trucks to reach farming sites in emergencies.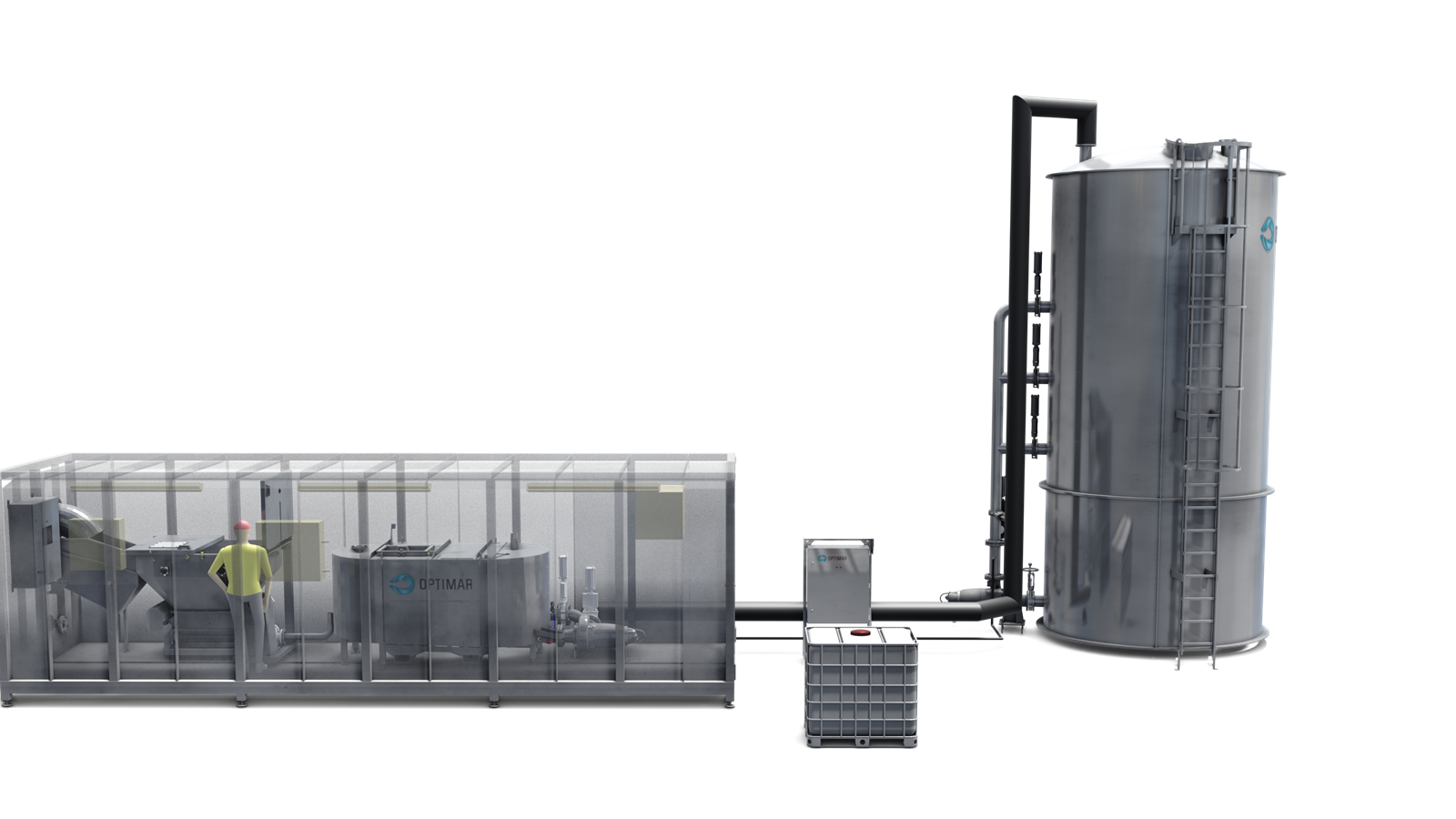 Complete grinder and ensilage solutions
Optimar has delivered grinders and ensilage units for decades and our focus is and always has been high quality, hygienic safety, and complete solutions connected to the total production site. Our systems can handle everything from smolt to full-grown fish, for wild catch factories, and pelagic and aquaculture fish farming. We see a high demand for veterinary container solutions with a focus on infection prevention, safe zones, and hygienic cleaning. These container solutions can be delivered directly onsite.

When connecting our grinders and ensilage units to our Optimar Commander Software the factory manager has full control of the whole process.
Optilice and Optiflush lice treatment
Remove sea lice without using chemicals or medicals is the best way to maintain animal welfare and sustainable fish farming.
Optimar Optilicer
Optimar Optilice is a thermic, non-medical, and sustainable treatment for removing sea lice in Salmon, Trout and Lumpfish. This gentle method requires no use of chemicals or medicals and is documented to remove 98% of all sea lice.

The fish is pumped from the cage for the Optilice -treatment. The fish is counted, and then bathed in temperature-controlled water (-1C – 36 °C seawater or fresh water) in a controlled and time-adjustable time treatment. The underwater circulation of 1000 ltr/sec per line secures a continuous supply of fresh seawater (10 m3/hour per line).
Read more about our Optilicer here: Optimar Optilicer
Optiflush treatment unit
The provision of low-pressure waterjets surrounding the complete circumference of the fish body represents a gentle impact on the fish and its welfare of it. Combined with other thermal treatment systems, it reduces the temperature needed for efficient de-licing with approximately 2° C, and consequently, it also increases the efficiency of lice removal if leaving the water temperature unchanged.
Read more about our Optiflush here: Optimar Optiflush
Optimar Commander Software
By constantly monitoring, capturing and logging system-wide data, Optimar Commander provides accurate information, both real-time and historical.
Traceability and documentation are vital aspects of today's modern food processing industry. By constantly monitoring, capturing and logging system-wide data, Optimar Commander provides accurate information, both real-time and historical. This information is displayed on intuitive screens, creating a unique image of everything that is happening in your factory.
Read more about Optimar Commander here: Optimar Commander


Make the most of every meter and each workforce, on land or at sea
Reduce production area
Reduce labor force
Reduce manual heavy-load handling
Maximize the use of space available.
Do not miss out on elevating your business to its full potential. Reach out now and let us get started!